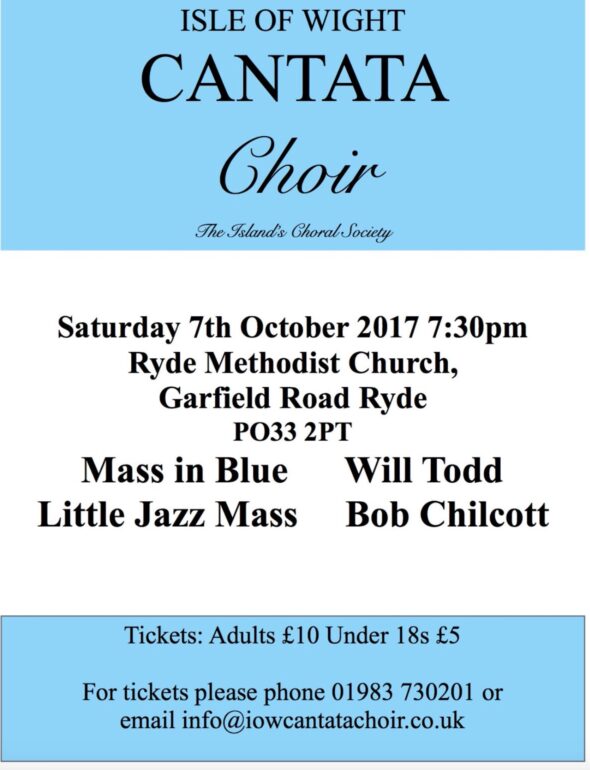 Concert Review:
Cantata Choir – Chilcott "Little Jazz Mass" & Todd "Mass in Blue"
Garfield Road Methodist Church, 7th October 2017
The first half of the concert featured Bob Chilcott"s "Little Jazz Mass" The Southern jazz influences can be heard throughout with crunching, dissonant chords being a great feature. The choir seemed to cope extremely well with this challenging genre.
The choir then took a break whilst the soloist for the evening, soprano Joanna L'Estrange sang two pieces. The first, a jazz standard by Michel Legrand, "What are you doing for the rest of your life" (made popular by Barbara Streisand) showed the amazing talent of one of England's finest jazz vocalists.
Her second piece, "Tea Totally" was written by Joanna's composer and jazz musician husband, Alexander L'Estrange. In her words this was a take on the British love of tea, a song full of witty humour.
The next item in the concert came from Joshua Attrill (saxophone and clarinet), a local boy who is currently studying music at Cardiff University, he treated us to medley of Gershwin songs – Joshua's standard of playing was extraordinary, such a clean sound carrying the recognisable melodies
The second half was devoted to Will Todd's "Mass in Blue" with choir, soloist and ensemble accompaniment. This has come to be a staple work in the choral repertoire.
All six movements of this work had their own unique styles, but all showcased exceptional use of syncopated rhythms and virtuosic solos from Joanna L'Estrange and each of the band members. Will Todd is regarded as composer who can cross the divide between classical and jazz and the Cantata Choir coped admirably with the afore mentioned tricky rhythms and also the extremes of vocal range.