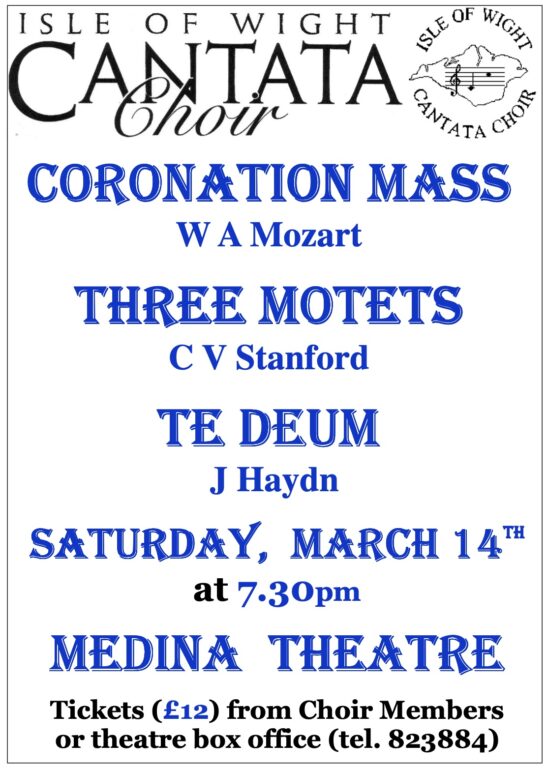 Press Release:
Choir's showcase for young singers
The Isle of Wight Cantata Choir is giving its next concert next Saturday, March 14, at 7.30 pm in Medina Theatre.
The works to be performed are Mozart's Coronation Mass, three motets by C. V. Stanford and Haydn's Te Deum.
The motets will be sung unaccompanied, creating quite a challenge for the choir of about 100 singers.
The other two works will be accompanied by a full orchestra.
In a move to encourage young people to develop an interest in classical music, the choir's musical director Rachel Tweddle has sought out four young up-and-coming soloists to sing in this concert.
Mezzo-soprano Camilla Bull and tenor Christopher Hann are both Island born and bred and were pupils of Rachel's before moving to the mainland and embarking on musical careers.
The other two soloists are soprano Jessica Broad and bass Robert Garland.
All four of these singers have already built quite a reputation.
by IW County Press, Saturday March 7, 2015
Concert Review:
Cantata on celebratory form
The Isle of Wight Cantata launched its 2015 season on Saturday night with an uplifting performance at the Medina Theatre.
The choir had chosen two of the most popular and jubilant works in the sacred repertoire, Mozart's 'Coronation' Mass and Haydn's Te Deum, written only 20 years apart in late 18th Century Austria. Cantata was also set a daring test of its vocal skills: three unaccompanied motets composed by England's Charles Stanford a century later. After weeks of Monday evening rehearsals, 82 singers pulled off the challenge magnificently. Indeed the more contemplative tone and a cappella setting of the motets provided an enriching contrast in the programme.
The orchestra was in fine fettle, and it was particularly pleasing to hear two Island-born soloists in the first half: international mezzo-soprano Camilla Bull and consort singer Christopher Hann (tenor), former pupils of Musical Director and conductor Rachel Tweddle. Keen to encourage up-and-coming soloists, Rachel also invited Royal Academy of Music student Robert Garland (bass) and soprano Jessica Broad, who studied at Scotland's Royal Conservatoire. She provided a standout performance – and sublime Agnus Dei – in Mozart's mass. All four artists added youth, energy and world-class vocal skills.
The Cantata isn't resting on its laurels, though, and remains keen for interested Island-based singers to join it.
"We'd particularly love to see more men step forward to fill out the bass and tenor sections," said Cantata Chairman Caroline de Belder
by James Vaux