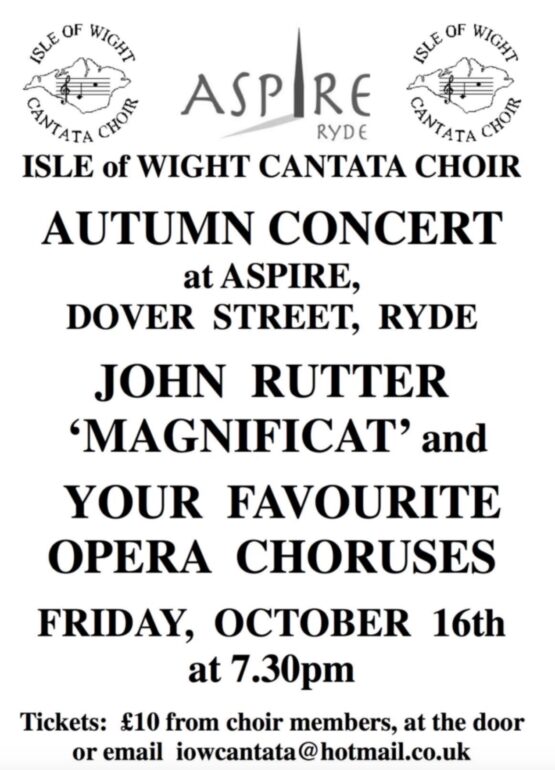 Concert Review:
Magnificent Magnificat and Crowd Pleasing Choruses
When John Rutter composed his Magnificat in 1990, he conceived the work as "a bright Latin-flavoured fiesta". And the Cantata Choir injected sunshine and sparkle into the piece in its packed concert last Friday, bringing light and shade to an otherwise chilly night. The Magnificat is usually sung as part of the evening Christian service. The new choice of venue – Ryde's Aspire (the former Holy Trinity Church) – was therefore wholly appropriate for the 80-strong choir, and made perfect use of its splendid acoustics.
The Latin theme continued into the second half, with rousing excerpts from operatic blockbusters. Island Soprano Tressa Lambert presented a coquettish Carmen, before being joined by a lusty chorus in the Toreadors' March from the eponymous opera. The Flower Duet from Delibes's Lakmé is best known from the British Airways commercial, and the evening was truly upgraded when Rachel Tweddle, the choir's ever-busy musical director, joined forces with Tressa for a first class rendition.
Tressa had the audience in stitches with her feigned tone-deafness in Flanders and Swann's tricky but hilarious 'A Word on My Ear'. To finish, excerpts from the traditionally twinned one-act-wonders, Pagliacci (the Bell Chorus) and Cavalleria Rusticana (the Easter Hymn), drawing both sacred and secular together. Cantata sang with due drama and devotion.
Special mention must be given to Cantata's talented pianist and accompanist Richard Wilkins, a veritable ten-fingered orchestra, and all expressed gratitude to Caroline de Belder, who is stepping down as Chair.
By James Vaux